10 Holiday Gifts for the TV Lovers on Your List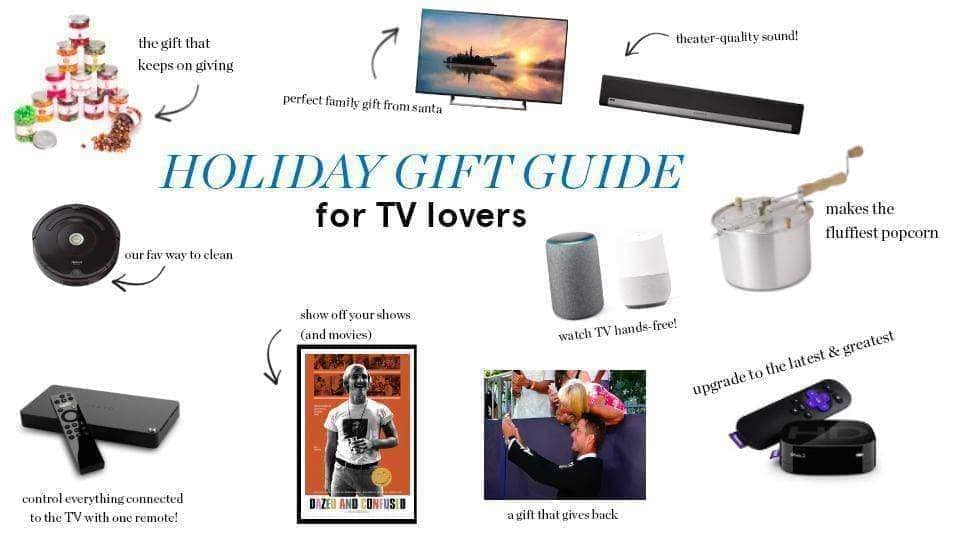 Holiday shopping season is officially in full swing. Naturally our list is filled with folks who love all things entertainment, so we've been scouring the internets for the perfect gifts to complement their TV-loving lifestyle. Here are a few must-have gifts we're adding to cart:
Soundbar. The TV lover in your life has premium cable, the latest game console and streaming media player, a sweet HDR TV … and they listen through their TV speakers? That's just not right. Do them a favor and gift them a Sonos Playbar or Sonos Playbase so they can experience theater-quality sound to match the rest of their premium home theater setup. The best part? When they connect Sonos with their Control Center, they'll be able to control everything connected to the TV with one remote.  
HDR TV. The right TV can make any viewing experience more magical and an 4K Ultra HD TV with HDR will take their home theater to the next level. Not sure what size to get? Check out our handy guide for how to select the right size TV.
Smart assistant for the living room. Chances are they have an Alexa or Google Voice smart speaker in the kitchen and maybe in the bedroom, but if they haven't added one to the living room, it's time. When they sync a smart assistant with Control Center they'll be able to control their TV hands free. "Hey Google, tell Caavo to turn up the volume." "Alexa, tell Caavo to play Home Alone." Next-level laziness is the best gift of all.
Streaming media player upgrade. The latest and greatest streaming media players – like Apple TV, Roku, and Amazon Fire TV – have come a long way and make a great home theater upgrade. The newest streamers offer features that will maximize their viewing and audio experience with support for features such as 4K, HDR, and Dolby Atmos.
Stovetop popper. Nothing says movie night like popcorn. A stovetop popper like this one from Williams Sonoma adds a nice touch of class to the evening and makes the lightest, fluffiest popcorn you'll ever taste.
Popcorn subscription. Speaking of popcorn. For our gift recipients that prefer a more gourmet sit back and relax experience, we're gifting The Popcorn Factory's Flavor of the Month Club. They can keep the movie marathon going and enjoy a different, mouth-watering flavor, delivered straight to their door monthly.
Film posters. Sure, they spend many hours watching TV in a dark room, but a poster or print featuring their favorite film or show gives them something to look forward to when the lights come on. We particularly dig The Art of Adam Juresko (you'll find several of his prints gracing the walls of Caavo's offices). If that doesn't fit your gift recipient's style, head over to Etsy for tons of great creative options. We recommend having the prints framed for a more polished look -- we use Framebridge for its convenience. Just mail them your poster (they provide free, prepaid packaging to send it to them!), pick your frame and voila!
Robot vacuum. "I can't wait until this show is over so I can clean" ... said no one ever. The reality is, cleaning takes your favorite couch potato away from their precious TV time and that's no way to live. We're gifting them a Roomba robot vacuum so instead of freshening up the floors and they'll be able to Continue Watching all day long.
A Hollywood experience. Feeling generous? Gift a once-in-a-lifetime chance to rub elbows with some Hollywood elite ... a pair of bleacher seats at the Emmy Awards (current bid $1,000), a photo opp with Trevor Noah (currently $800), or even snag the original custom-made Mardi Gras costume worn by the late Anthony Bourdain during the filming of Parts Unknown (currently $500). The online auction benefits the Television Academy Foundation, the Academy's charitable arm.
Universal remote. We're biased, but we think the Control Center home theater hub + universal remote makes the best gift for anyone who loves TV. They'll finally be able to control everything connected to their TV with one remote. And watching TV becomes as simple as saying what they want to watch. We can't guarantee it'll stop them from binging terrible sci-fi movies every weekend, but at least it'll make the experience a delight.