5 Game Day Snacks for March Madness
March Madness is in full swing, and while you may have your bracket decided early on, now is the time to focus on the snacks. Don't let your watch party go stale with the usual chips and salsa. Instead, spice up the game watching experience with the perfect finger foods. We've compiled a list of super tasty, and easy to make snacks that are sure to score with your friends and family!
Photo Credit: Katie Elliott of Spoon University
Mini chicken and waffle bites
| Spoon University
A tiny twist on a brunch favorite, these mini chicken and waffle bites give your guests something sweet and savory to munch on. You won't have to slave away in the kitchen for hours to make these - all the ingredients are conveniently frozen. Check out the recipe here.
Photo Credit: Karen Gibson of the Soup Addict
Parmigiano Popcorn
| Soup Addict
Everyone loves popcorn, but after awhile the same butter popcorn becomes mundane. Switch it up by adding some flavor and spice to this classic snack to make game day memorable. Check out the recipe here.
Photo Credits: Cheyenne Bany of No Spoon Necessary
Bacon & Garlic Knots with Beer & Cheese Sauce | No Spoon Necessary
If your team isn't doing so well (knock on wood) these tasty bad boys will definitely distract you from getting upset over the game. Bacon tends to solve (almost) all of our problems! Check out the recipe here.
Photo Credit: Traci Hutcherson of Beneath My Heart
Buzzer Beater Brownie Sundaes | Beneath My Heart
What's a party without dessert? These basketball brownies are perfectly on theme and customizable to your team's colors. You can make the recipe easier by buying already-made brownies, but still adorn the sundaes with little candy basketballs. Check out the full recipe here.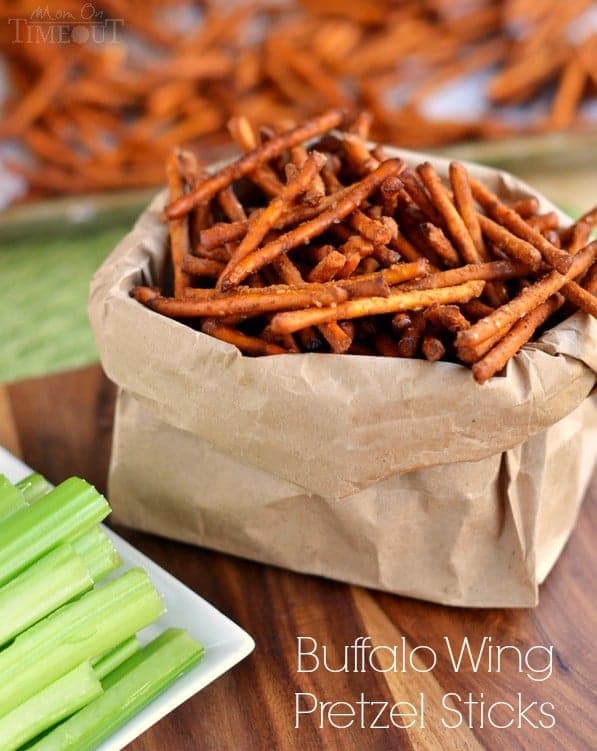 Photo Credit: Trish Rosenquist from Mom on Time Out
Buffalo Wing Pretzel Sticks | Mom on Time Out
Simple to make and finger-lickin' good! These pretzel sticks will probably be gone before end of the first quarter due to their tremendous flavor, so we recommend stashing some away for yourself for later. Check out the recipe here.
Looking for other ways to enhance your game day party?  Start by making sure you've covered all the Home Theaters Essentials. To help get your TV room fully adorned in the March Madness theme, we're throwing in a free basketball squishy with every Control Center order starting today - use code Madness30 to save 30%! Use it as stress-relief if your team isn't playing so well, or toss it around during commercial breaks.