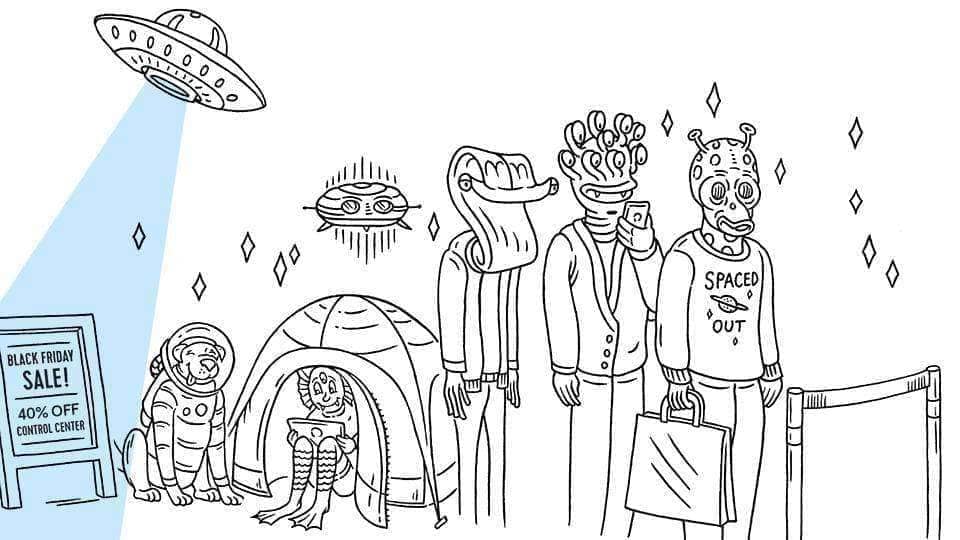 It's here - the busiest and biggest shopping day of the year - Black Friday. Dating back to 1961, Black Friday gets its name from representing the day when retailers begin to turn profits, going from "in the red" to "in the black." For the rest of us, it's the day we save up our pennies for all year long, waiting for best prices on all the good stuff we want.
As a small start-up with a big ambition to make watching TV easy for everyone in the family, we're super happy to participate in Black Friday for the first time.  And we're pleased to rollout some significant discounts on our Control Center + Universal Remote at retail and online.
Let's get this Black Friday started with an amazing deal, shall we?
We're talking $59.95. Control Center's lowest price ever, a 40% discount from original retail price of $99.95! You new Control Center includes a free 45-Day trial of the Caavo Service Plan, then choose to pay $1.99/month, $19.99/year or Lifetime Service for $59.99. The Caavo Service Plan keeps your Control Center running smoothly, conducts seamless HDMI switching between connected devices, and gives you access to new and updated exclusive features around search and content. The Service Plan also powers True Universal Search to show viewing options across all your connected apps and services. Paid, Free—even YouTube. 
Our Black Friday deal is available through the weekend ending Monday before the stroke of midnight.
Get this great deal on the Control Center + Universal Remote at Caavo.com with code ONEREMOTE at checkout. As always, all orders over $50 ship free. And, while supplies last, get a free stocking stuffer surprise with purchase (one per order).
We're also available at a Best Buy location near you or online at BestBuy.com
We wish you a very happy holiday season, and an even better year of TV, movies and amazing entertainment - all of your content, all in one place.