Control Center Giveaway: Show Us Your #RemoteClutter!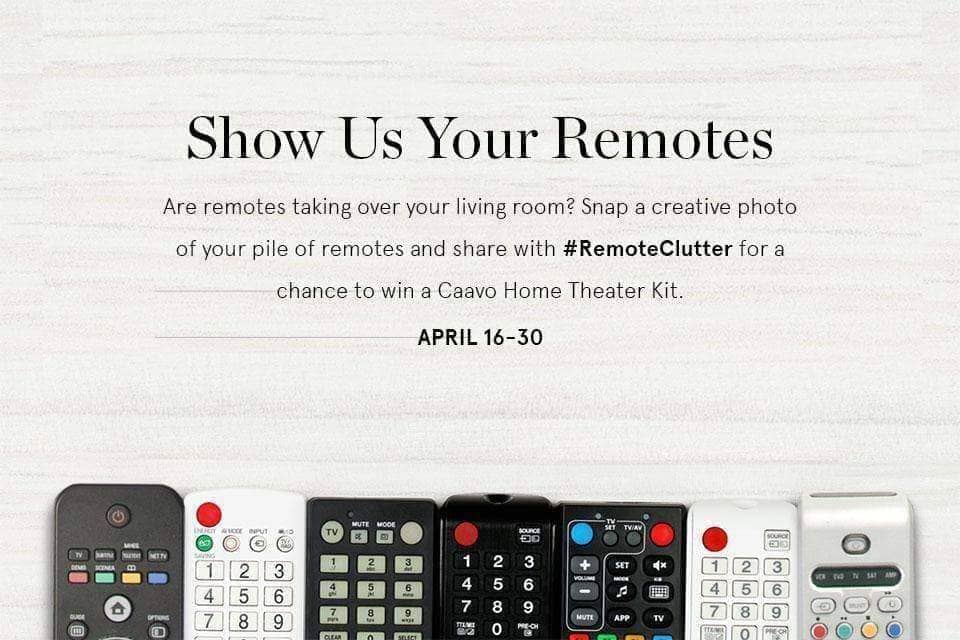 The season of blooms, basketball, new beginnings (and new episodes) is well underway, and it's officially time to start cleaning all the things. As we dust, disinfect and tidy up every square inch of our home, we're taking no prisoners. That unsightly stack of remotes cluttering up the coffee table doesn't stand a chance. Who's with us?
Show Us Your #RemoteClutter Giveaway
We want to help kickstart your efforts with a universal remote giveaway. Share a photo of your pile of remotes and you could win a Caavo Home Theater Kit (Control Center + universal remote with Caavo Lifetime Service Plan and a Spotlight HDMI cable, a $159.95 value).
To enter:
Snap a photo of your remote clutter

Follow Caavo on Instagram, Facebook or Twitter, then post your photo with #RemoteClutter (note: your profile/post must be public to qualify)

We'll select 5 of the most creative and interesting images to receive a Caavo Home Theater Kit
The contest runs from April 16th-30th - winners will be notified via DM.  
For more information check out the contest page. Terms and Conditions apply.
The Control Center universal remote and home theater hub is the perfect solution for getting rid of your remote clutter for good. Control Center streamlines your entertainment and lets you control everything with one simple remote with voice control.
Good luck and happy Spring Cleaning!