Perfect Mother's Day Gifts for Tech Loving Moms!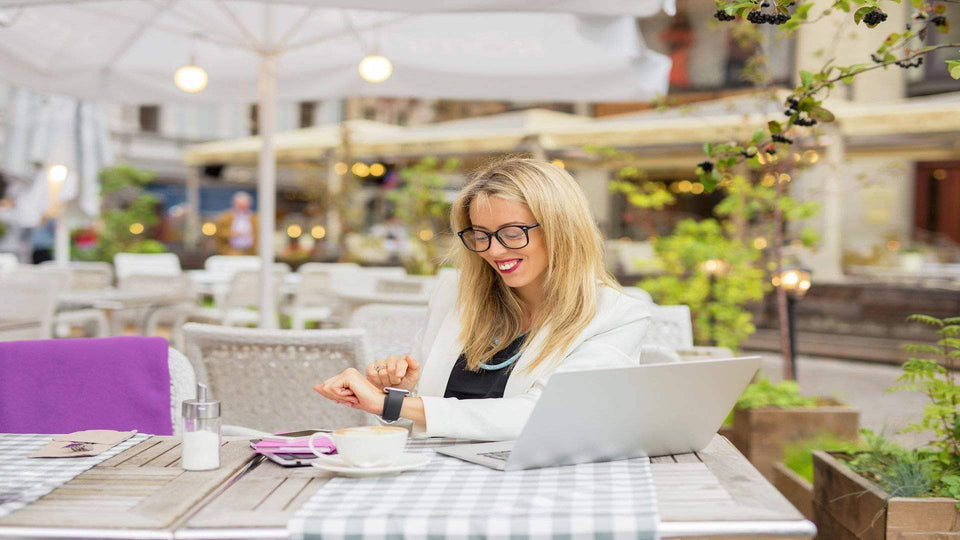 Mother's Day is near, and if you're scrambling to think of a gift (or have forgotten about the day all together), don't fret! We've compiled a list of gift ideas that any mom will love and will hopefully make her life a little easier. Moms put in so much effort everyday to help keep their families afloat, from corralling the kids to always being there when you need support and a hug. They are definitely more deserving of one day a year.
It's only right to shower the mothers you know with love and appreciation, and while you can't go wrong with a nice brunch and a bouquet of flowers, it doesn't hurt to gift her a little something extra that she can use throughout the year. Check out our list of 6 cool gadgets that any mom would get excited about!
Photo from Bellabeat
Smart Jewelry
What mom doesn't love receiving some bling for Mother's Day? This time, the jewelry isn't just a shiny fashion accessory, Bellabeat has created a stylish wellness tracking smart-brooch that tracks physical activity, sleep cycles, reproductive health and even assists with meditation. It works as a necklace or clips on to her clothes so she can wear it with a variety of outfits. If she wants to check her wellness updates throughout the day, she can download the Bellabeat app to view her stress levels, see how many steps she's taken for the day and discover new meditative exercises for a calmer mind and body. This is the perfect gift for the mom who wants a more chic alternative to wearable tech.
Photo from Sonos
Wireless Speaker
When the kids are away, the moms will play! You can help a mom you know rock out at home with an incredible sound system, like Sonos speakers, so she can blast 80s Madonna throughout the entire house. Sonos makes a home sound system that is entirely controlled through their mobile app and voice commands. Their speakers are wireless and connect through WiFi so you can place the speakers in different parts of the house and have them playing the same or different songs! Sonos also works with Caavo Control Center, making it easy to control the music through the TV that Control Center is connected to, and you can even see the album art displayed on the TV.
Photo from Winc
Monthly Wine Subscription
This isn't a gadget, but we don't think any mom would complain about receiving wine at her doorstep every month. It can be overwhelming choosing a wine at the grocery store, but subscription websites like Winc simplify the process. With Winc, she'll be asked to take a palate questionnaire to find out which types of wines match her taste and receive a few recommended bottles to try out. From there she can rate the wines that she samples to receive more accurate suggestions next month. It's a pretty neat service for the more casual or even expert wine drinker.
Photo from Backslash Fit 
Smart Yoga Mat
A yoga-craze has swept the country, but for good reason! Yoga is a great way to balance the mind and body, making it the perfect activity for moms of all ages. This Backlsash Fit yoga mat will make her yoga sessions that much more enjoyable and stress free because it rolls itself up with just a simple click when you're done using it. She can also pair the mat with a bluetooth speaker and hear several preprogrammed yoga tutorials  - perfect for the woman who is new to the world of yoga.
Photo from Ember
Temperature Controlled Mug
Avid coffee and tea drinker's prayers have been answered! There is finally a mug that will keep her drink piping hot, as she gets ready for the day or winds down at the end of the night. The Ember Ceramic Mug pairs with their Ember app, which allows you to set your drink to your desired temperature. The mug will remain at that specific temperature for one hour, or indefinitely if it's plugged into the charging coaster. The mug automatically turns on when a liquid is poured inside and the app will notify you when your drink is at the desired temperature.
Photo from ArtNaturals
Oil Diffuser
What mom couldn't benefit from aromatherapy to help soothe her mind and keep the house smelling fresh? An oil diffuser is a great gift as it gently uses essentials oils (known to aid in relaxation, focus and even sleep) into the air as vapor to create a more relaxing environment and giving your home a spa-like feel. This ArtNaturals Essential Oil Diffuser and Humidifier has LED lights that emit soft colors for the perfect night light and it also works as a bluetooth speaker.