The Best Living Room Gadgets from CES 2019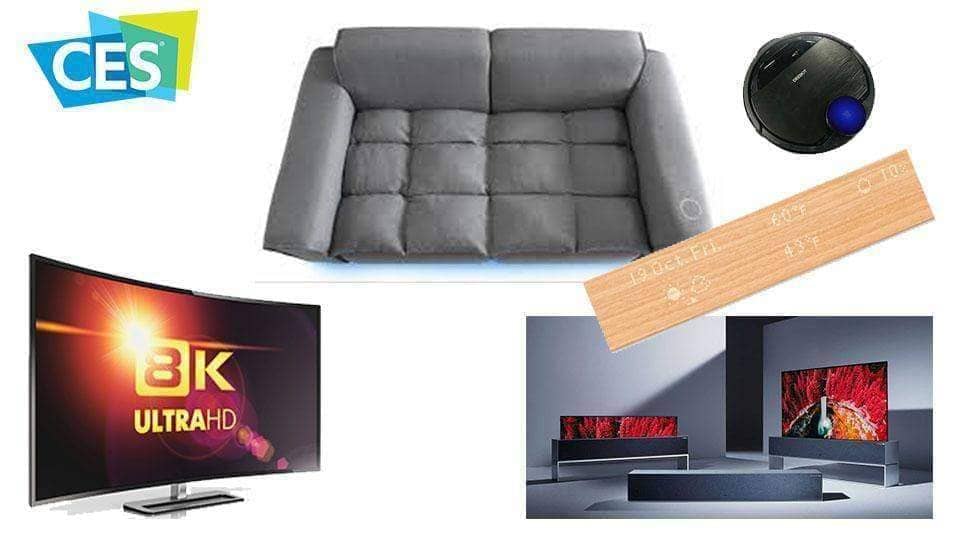 Where else on earth can you find a robot designed to love you, a rollable TV, and a machine that folds your laundry, all under one roof? The one-and-only Consumer Electronics Show in Las Vegas, of course.
We enjoyed an amazing week at CES last week showing the masses our Control Center home theater hub + universal remote. In our spare time, we hit the show floor where we saw gizmos and gadgets of every flavor imaginable (including the literally delicious Impossible Burger 2!).
Today we're taking a minute to reflect on everything we saw and sharing a few of the smartest, most useful … and downright delightful living room gadgets that caught our eye.
1. The Smart Sofa by Miliboo Corp
A 2019 CES innovation winner, The Smart Sofa by Miliboo bills itself as "the world's first smart sofa." It incorporates interactive features — from a vibrator seat to built-in speakers and LED lamps — to create a unique home theater experience. We're always on the prowl for new ways to improve our home theater setup and we think The Smart Sofa lives up to its name indeed.


The world's first smart sofa from Miliboo on Vimeo.
2. Mui Smart Display
With its elegant wooden form factor, the Mui Smart Display caught our eye on the show floor — and the good new is this technology has both beauty and brains. This simple plank of wood connects with devices including our thermostat, speakers and lights so we can turn up the temperature, play music or power off the lights right from the Mui touch interface. We love that this CES Innovation Award winning smart home gadget not only provides helpful functionality for our smart living room, but does so with a design that blends beautifully with our living room decor. Mui was originally a Kickstarter product, which met its goal in October.


3. 8K TV from Sony, Samsung, LG & others
Perhaps the most buzzed-about trend at this year's show was 8K TVs. These pixel-packed displays are practically larger-than-life. No seriously. The 8K difference is best seen on very large displays, so we saw some very huge screens — Sony unveiled its 98-inch 8K LCD TV, and LG showed off its 88-inch 8K OLED. We took the chance to see them up close and personal and we were blown away. 8K TVs basically make you feel like you're looking through a window. It's crystal-clear picture like nothing we've ever seen before. We're excited to continue following the 8K trend as content producers like Netflix, Hulu and Amazon firm-up plans to invest in native 8K content.
4. LG Signature Series OLED TV R9 Rollable TV
LG's newest innovation in TV also received a lot of buzz at CES, being hailed as the future of design. The 65-inch UHD rollable OLED display rolls up like a poster, allowing it to be rolled up and hidden when not in use. Plus, the small size of the rolled-up screen means that it can be more easily moved and stored so we can keep our living room clean and decluttered. Marie Kondo will be proud.


5. Deebot Ozmo 960 Smart Cleaning Robot
As a company that uses AI and machine vision in our Control Center universal remote control, we have a major robot affinity. Arm that robot with features that give us more time to watch TV and we're all in. The Deebot Ozmo 960, which is slated to go on sale later this year, definitely fits the bill. This "smart cleaning robot" uses AI to recognize objects and how far away they are. So, when it sees a rogue sock or a charging cable on the floor, it knows to navigate around it rather than sucking it up.