The Messiest Homes in Cinema and Television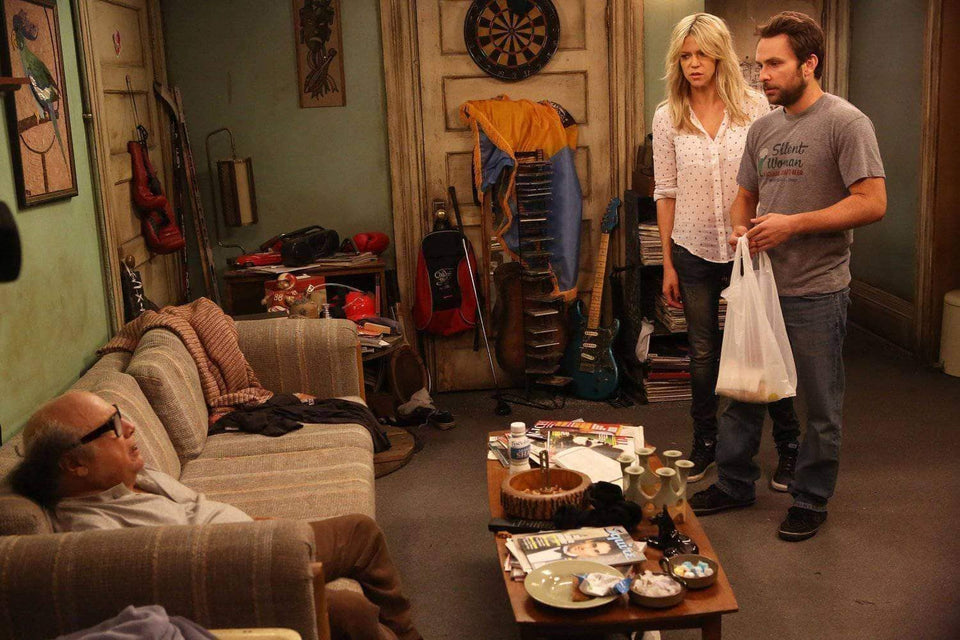 The tradition of spring cleaning isn't that complicated. It's the time of year where you toss out the old so you have space to bring in the new. Some people embrace this tradition, while others clearly don't. While you know we're big fans of organization (especially getting rid of remote clutter with one universal remote that does it all), we believe cluttered places tell an interesting story, especially in movies and shows.
Our list of the messiest homes ever in cinema and television will either get you in the spring cleaning spirit … or make you feel really superior about the current state of your space.
Frat houses aren't known for their hygiene, but the Omega Theta Pi House takes the (filthy) cake. The moment you enter the house, you gotta dodge flying beer bottles, the smell of frat guys smoking cigars, and D-Day with his motorcycle flying through the front door.
As quoted by Sweet Dee, "Charlie and Frank live in squalor." But can you really blame them? Considering Paddy's Pub is rated the Worst Bar in Philadelphia, it's no wonder Charlie has no money. Frank on the other hand, he's just a maniac.
The McCallister House
-
Home Alone
Having a neat home for five kids is already tough in itself, but this home had no chance of being tidy after Kevin McCallister transformed this residence in a Chicago suburb into a living death trap. From rigging a steam iron to drop down a chimney to heating up door handles, this home was a mess after Kevin stopped the Wet Bandits from robbing his family's house.
Being a maid isn't a glamorous job, but being a maid for crime scene cleanup, now that's a different story. Every home that was shown was filthy and definitely had a story to tell, but the one that stood out the most was home with the flies and blood on the mattress. Yikes.
Rickety, creaky, and decrepit. These descriptors are not just to describe the home, but Count Olaf as well. You'd think that even though you're only adopting these children to steal their inheritance, you couldn't clean up a little to at least put on a good front for social services?
This home was already a pigsty when it was purchased by Walter (Tom Hanks) and Anna (Shelley Long), but it didn't take long before it got significantly worse. From the collapse of the main staircase to the electrical system catching on fire, this place was a real piece of work. And all it took to fix this place was a "small" down payment of $5,000 as well as a couple breaking up and getting back together.
Inherited from Steve's grandmother before her passing, this place triples as a radio station, a grow house, and a place where Steves lives, so you can imagine the filth in here.
3 West End Road Mansion
-
Grey Gardens
Whether we're talking about the 1976 documentary, or the HBO-version starring Drew Barrymore and Jessica Lang, the mansion shown in Grey Gardens is the epitome of a messy home. It's not surprising though because with little to no income in their later years, this manor had minimal chance of being kept up.
Honorable Mention:
All Hoarding Related Shows
Whether you're a fan of Hoarders or Hoarding: Buried Alive, there's too many examples to pick from when it comes to the messiest home, BUT what we can do it show you one of our favorite examples.
If you're sick and tired of seeing this clutter and mess we can help you! Win a Caavo Theater Home Kit so you can get rid of all the remotes tormenting your living room. All you have to do is take a picture of all your remotes, and share it to us on Instagram, Twitter or Facebook with the hashtag #remoteclutter (remember, your account or the post must be public to qualify).
Also, if your home is spic and span and you're ready to move on to cleaning up our planet. ... check out our list of great Earth Day Documentaries to watch!