Actor Austin Nichols' On-Screen Couples that Make Him Feel the Love

Actor Austin Nichols' On-Screen Couples that Make Him Feel the Love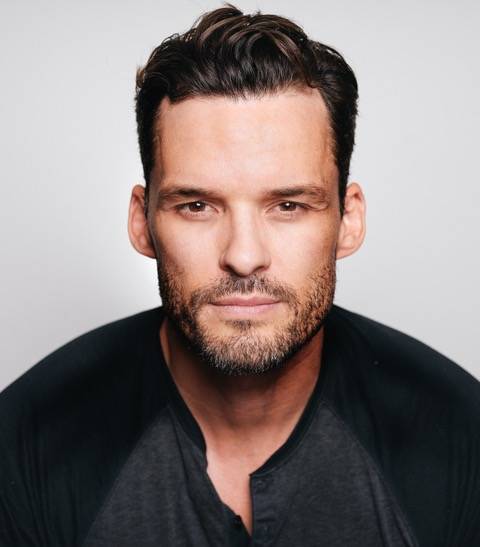 Austin Nichols has the furled-brow move down pat. He scowled as embittered Spencer Monroe on The Walking Dead, grimaced as scandal-prone movie star Tommy Wheeler on Ray Donovan, and fretted pensively as sensitive film producer Julian Baker, of course, on the uber-melodramatic One Tree Hill. But who knew they guy brims with the quirky charm and rat-a-tat wit of a screwball romcom star? Someone put him in a remake of Bringing Up Baby!
"Awesome!" "Cool!" "Haaaa!" Over an afternoon soda at a Beverly Hills cafe, Nichols punctuates talk about life, work and his love of cinema and TV with a variety of lively affirmations. Right now, he's especially keen on This Close, Sundance Now's groundbreaking, Peabody-winning comedy centered on a deaf, relationship-addled PR-firm exec named Kate (Shoshannah Stern, deaf herself) and her best friend Michael (the also deaf Josh Feldman). Nichols joined the show's just-begun second season as Shep, Kate's dashing long-ago former beau.
"He walks right back into her life and thinks, after all these years, she's the one," says Nichols. "It's so sweet. We need to get eyes on this show!"
Nichols, the kind of late-30something who skateboards and devours street tacos, was born in Ann Arbor, Michigan, but raised in outdoorsy Austin, Texas (his dad David is a radiologist; mom Kay, who passed away from cancer in 2015, was a champion trick water skier). An arm injury as a teen doused his own dreams of becoming a pro water skier, so he headed to LA to try acting.
Armed with his maybe genetic gusto, after graduating from USC in L.A. (major: creative writing) he scored parts in The Day After Tomorrow with pal Jake Gyllenhaal and Wimbledon with Kirsten Dunst. The role that really put him on the map: The cryptic title character in HBO's John From Cincinnati (2007), a spiritual surfers drama from Deadwood creator David Milch that got more publicity than viewers.
Nichols has since also played a gigolo in the 2008 movie version of Bret Easton Ellis' The Informers, a naughty teacher on Friday Night Lights and a (bludgeoned) cad on Bates Motel. So it's heartening to see the distinctly warm, even huggy, Nichols get to play the proverbial hopeless romantic on This Close. He's a romantic himself, as the following Q&A—and the star's list of must-sees—reveal.
This Close is a change of pace for you—what's the draw?
I'll be perfectly honest—and I think it's important for people to hear this—I was ignorant and inexperienced with the deaf community. When I first heard about the show, I thought, I don't know if I want to watch that show. Is it just them signing all the time? Then I watched it and I said, "Oh my God, it's so captivating. The characters are signing, they're talking. There's subtitles, there's not subtitles. It recalibrates the audience in a way that's super-engaging."
Was it easy to learn signing?
Speaking with your hands, it turns out, is the same thing as speaking—it's an outlet of expression. So (learning to sign) was a beautiful, kind of cathartic and fun experience. But it was also difficult and scary because I was playing somebody who was good at it. I wanted to make sure I was doing it right, and I didn't have a lot of time—but ultimately I think—I hope—I pulled it off. This is why I became an actor, to do things I've never done before.
What's Shep all about?
He's easygoing and fun and loving. He's been through the crazy relationships and the breakups and now he knows what he wants. I feel like, for people in general, when you get to that place in your life and you're more focused, it's really a wonderful feeling.
Where are you in your own life?
Ha! I will tell you this: I'm very happy. I have an amazing gal and she changed my life and I hope (the relationship) goes on and on and on. It's great.
You're pretty upbeat. Is Austin a typical happy-go-lucky Austinite?
I kind of am. Austin was a great place to grow up. I love the music and the food and the crystal-clear green water and boating and kayaking and swimming. It's so fun. Everybody's pretty healthy and looking to have a good time.
Was it difficult to adjust to mean ol' Hollywood?
Yes! It's still difficult. (Laughs) I was lucky to have great parents and a great upbringing. That helped me deal with the, um, different kinds of personalities out here.
Why did you pick romantic couples from movies and TV for your Caavo list?
We need them! They can inspire. And they're pure escapist entertainment. I've seen The Princess Bride with Wesley and Butterfly a hundred times. I can quote every word.
Howard Roark and Dominique Francon, The Fountainhead (1949)
Ayn Rand's same-titled novel may be about ultra-individualism, but it's also got a heady love story: Howard Roark (Gary Cooper) is a visionary architect who refuses to make dreck for a buck—a quality that smitten yet status-conscious socialite Dominique Francon (Patricia Neal) finds both scary and appealing. Will she stand by her crush? "I've never seen the movie, but it's one of my favorite books—it's incredible—so I'm cheating here," says Nichols (Rand did write the screenplay). Hollywood tidbit: Barbara Stanwyck pushed hard to play Francon, and was irked when the role went to upstart Neal. "That's good trivia! I love Barbara Stanwyck."
Eve Polastri and Villanelle, Killing Eve (2018-present)
Ayn Rand's Current Emmy nominees Sandra Oh (Brit spy Eve Polastri) and Jodie Comer (slippery assassin Villanelle) "have created a relationship I've never seen before," says Nichols. "They're chasing each other and maybe out to kill each other, but they're obsessed with each other. It's fascinating."
Chiron and Kevin, Moonlight (2016)
Poignant, pensive and Miami-sultry, this Oscar-winner charts the maybe-doomed love-life—and life—of Chiron (played by different actors over time), a projects kid with a drug-addict mom, a kindly dealer for a father figure and, later, a secret yen for a male friend. "To see that love blossom and how hard it would be to tell anybody about it—that's heartbreaking," says Nichols. "It's just a beautifully done movie."
David Addison and Maddie Hayes, Moonlighting (1985-89)
Private eyes in love! Bruce Willis shot to fame as wisecracking David Addison and Cybill Shepherd notched a big comeback as skeptical Maddie Hayes with this screwball-licious series. The episodes could be fantastically inventive (love the black-and-white noir outing), and the banter A-grade. The stars' chemistry was key, says Nichols: "They were so cute fighting, but you knew they loved each other—though the writers did a really good job of keeping them apart for quite some time to keep the tension going." Nichols is also a fan of Cheers and its similar Sam-and-Diane dynamic. "I guess I like feisty couples!"
Larry and Balki, Perfect Strangers (1986-93)
Er, is there a word for a cousin-y bromance? In any case, Nichols adores this long-running TGIF sitcom about Chicagoan Larry (Mark Linn-Baker of My Favorite Year) and his wacky roomie Balki, fresh from the (fictional) island nation of Mypos. "I know it's not a (traditional) love story," says Nichols, "but the guys cared for each other and the actors had an amazing chemistry. I loved this show!"
Joan Wilder and Jack Colton, Romancing the Stone (1984)
In this hit, Back to the Future director Robert Zemeckis shows a real flair for old-school—and solid as a rock—adventure and romance. The feisty pair here: Michael Douglas as an exotic bird smuggler (!) and an up-and-coming Kathleen Turner as a snarking romance novelist. Together, they face kidnappers, gun-toters and the jungles of Columbia in their quest for a priceless emerald. Raves Nichols: "They have that love-hate thing down!" He's also a big fan of the sequel The Jewel of the Nile and the stars' separate, darker comedy The War of the Roses. "I call (the flicks) their trilogy."
Lloyd Dobler and Diane Court, Say Anything (1989)
"There's something about John Cusack's performance that got in there, got in deep," Nichols says, hand over heart. Can average guy Lloyd (Cusack), fresh but aimless from high school, find eternal love with gorgeous valedictorian Diane (Ione Skye)? Not if her snooty (and crooked) father has his way! Time to break out that boombox! Cameron Crowe, this modern-day classic's writer-director, recently said he's mulling a sequel. Says Nichols with a giggle: "Send me the script!"
Goose and Maverick, Top Gun (1986)
Don't worry, Nichols' breath wasn't exactly taken away by the romance between Tom Cruise (Navy flyer "Maverick") and Kelly McGillis (flight instructor Charlotte) either. He put this cheesy hit on his list for the bond between Maverick and his ill-fated wingman Goose (Anthony Anderson). "It's an incredible bromance." Hmm, wonder who Maverick will bromance in next year's long-awaited sequel!