Actress Jane Seymour's Favorite Shows & Movies Featuring Herself!

Actress Jane Seymour's Favorite Shows & Movies Featuring Herself!

By John Griffiths | Photo Courtesy Netflix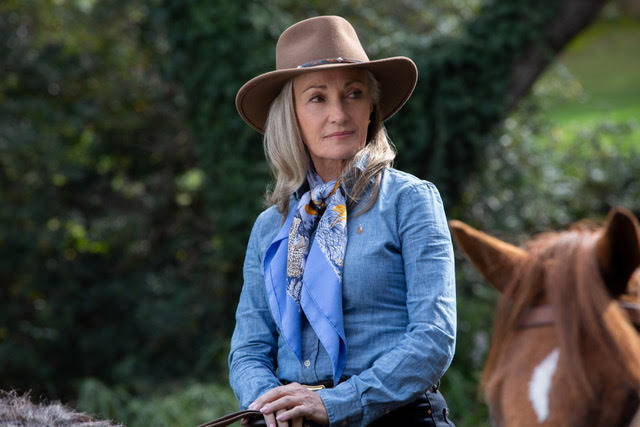 Jane Seymour is our generation's Elizabeth Taylor—and more. Like La Liz, Jane—forever memorable for her turn alongside Christopher Reeve in the classic tearjerker Somewhere in Time—was born in February just outside London. She's also a romantic (Jane: 4 ex husbands, Liz: 8) and idealist (Liz was an AIDS activist, Jane speaks out on women's health). And, like Taylor, La Jane has a flair for glamour, so much so that she too has a diamond named for her. Actually, it's an entire ring—a 2-carat stone in a platinum and rose-gold setting, fashioned by a smitten Russian mining company a few years ago.
Like any true icon, Seymour—whose right eye is brown, the left green—loves to keep 'em guessing. "Absolutely," she says with palpable delight from her Tudor-style manse in Malibu. She may be a grandmother to six who paints watercolors of flowers and friends, and who writes children's books and self-help bestsellers like 2017's The Road Ahead: Inspirational Stories of Open Hearts and Minds. But how many nanas have been awarded the Order of the British Empire medal by Queen Elizabeth II (in 2005) and also posed for Playboy (last year at a gorgeous 67)?
She's now mixing it up with Michael Douglas (Hollywood acting coach Sandy) and Alan Arkin (agent Norman) in Netflix's showbiz-com The Kominsky Method. Role: Madelyn, Norman's former flame who's out to light up his life again. "We haven't seen each other in 40, 50 years, but we pick up where we left off, realizing that life is too short," says Seymour of TV's latest Up-There It Couple. "We have to deal with our adult children and all the ins and outs of a relationship. It's funny—and heartbreaking."
No offense to the 85-year-old Mr. Arkin, but—"I wear a gray wig," Seymour interrupts, knowing where the question's going. "Trust me, I look close to being (Arkin's) contemporary. But I told Chuck (Lorre, the show's creator), 'You put a gray wig on me, I'm a whole other person.'" She chuckles that her get-up even fooled her old Hollywood pal Douglas. "We've known each other forever—we used to live near each other. But, believe it or not, during rehearsals, I'm in the wig and he comes up to me like a complete stranger and says, 'Hello, I'm Michael.' I said, 'Michael, this is me, Jane.' He really freaked out."
Obviously, Seymour—real name: Joyce Penelope Wilhemina Frankenberg—comes with her own rich past. Close to her dad (a WWII squadron leader turned noted OBGYN) and mom (a nurse), she grew up studying singing and dance amid London's colorful mod scene. Yet her first actual film role— in 1970's Danish-produced The Only Way—was no romp: She starred as a Jewish ballet teacher aiming to flee 1943 Germany with her parents. From there, she captivated as Roger Moore's love interest Solitaire in the Bond flick Live and Let Die (1973), Mozart's wife in 1980's Broadway triumph Amadeus, troubled Cathy in 1981's miniseries of Steinbeck's East of Eden (earning her a Golden Globe), and opera singer Maria Callas in the 1988 TV biopic Onassis: The Richest Man in the World (an Emmy there).
Aside from Somewhere, though, Seymour is of course best known for her six years as frontier doc Michaela Quinn on CBS's Dr. Quinn: Medicine Woman (1993-98). Given her parents' medical backgrounds, did she urge the show's producers to make those doctoring scenes more accurate? "Per my instructions and demands, we consulted the Smithsonian Institute on every episode," she looks back proudly. "The bad news is that it would have been a very sad show if we were (100 percent) realistic. Everyone would have died would they have had surgery by me because back then (the show's setting, circa 1867), there was basically only morphine, whiskey and a leather strap to offer. There were no antibiotics."
Midway through the show's run, Seymour herself nearly died while giving birth, centuries after Henry the VIII's third wife Jane Seymour—from whom the actress took her stage name—met her own tragic fate. The queen "died in childbirth from preeclampsia (a pregnancy marked by high blood pressure) giving Henry his only son," recounts Seymour gravely. "I always imagined that—because I had so much good fortune in my life and having taken her name—I would somehow not be able to have children. I had my first two (kids) with no issues, but when I decided to have twins in my forties, I got toxemia and had to have an emergency C-section. I got exactly what killed Jane Seymour—but I had modern medicine."
It's that experience, and her fascination with everything medical ("I grew up in hospitals and I still get invited to watch open heart surgeries!"), that has compelled her to press all women to get their blood pressure checked and more. "More women die from heart disease today than all the cancers put together. I feel like it is part of my heritage to help prevent disease."
Obviously, Seymour isn't a dour sort. Through the years, she's had fun shaking up her Dr. Quinn image, playing the proverbial cougar in 2005's raunchy hit Wedding Crashers, and turning heads more recently as Marlon Wayans' crazy-racist adoptive mom in the spoof Fifty Shades of Black. (Fun fact: Back in the '90s, she and Liz Taylor both guested as themselves in episodes of Murphy Brown and The Nanny!). Seymour even headlined a Funny or Die short, Dr. Quinn, Morphine Woman, a few years back. "Basically," she says with a chortle, "the premise was that Dr. Quinn had inadvertently turned all the townspeople into addicts and alcoholics."
The star's film and TV work, unsurprisingly, runs the gamut, from funny to devastatingly dramatic to pure epic. Caavo asked Seymour to go over her 147 credits and pick her personal bests below.
Keri Russell charms in this quirky comedy as a love-addled single obsessed with 18th century author Jane Austen (Pride and Prejudice, etc.). Off to England she goes to a period-themed (Westworld-esque?) vacation spot run by Seymour's Mrs. Wattlesbrook. "It's an amusement park for Americans who want to have a full Jane Austin experience," says a laughing Seymour. "The servants look like male strippers! It's so wrong." Also bold: he film's director and co-writer, Jerusha Hess (who co-wrote Napoleon Dynamite), cast one of Seymour's two younger sisters, non-actress Anne, as a maid who constantly shadows Wattlesbrook. "Until I saw the movie, I didn't realize that Jerusha was having my sister mimic everything I did, stealing every scene right behind me! It's hilarious!"
"I play Malcolm McDowell's wife of many years, and on their 40th wedding anniversary, he refuses to acknowledge or do anything about it," recaps Seymour of this offbeat little-seen indie. "And she just doesn't understand why he's behaving so horribly to her. Then he disappears. You have to see it to understand why." The actress raves about her costars: McDowell is "off the charts," Keith Carradine (as McDowell's shady brother) offers a "tour de force" turn, and Vinessa Shaw "is phenomenal" as their cagey daughter. Incidentally, "I think it's the best thing I've done acting-wise. Nobody really has seen it, but I'm very, very proud of it."
Captains and the Kings (1976)
Care for the glossy flipside of Scorcese's Gangs of New York? This deliciously melodramatic miniseries, based on Taylor Caldwell's bestseller, follows the rags-to-riches rise of an Irish immigrant (Richard Jordan of Dune) in late 1800s Boston. Fresh from England herself with no agent and little money—"I was living on fumes in LA"—Seymour nabbed a part in Kings, only to lose it after the producers discovered she didn't have a work permit. Luck struck—she got that visa—"and I ended up with a much better role (as Jordan's obsession)." NBC ordered two more hours of the miniseries, she says, "on the condition that (hunky costar) Perry King and I mostly make out." Her other castmates: Henry Fonda, Barbara Parkins, Patty Duke, Vic Morrow and John Houseman.
In this ABC miniseries of John Steinbeck's post-Civil War novel—"an extraordinary classic about good and evil"—Seymour chews the scenery and more as Cathy Ames, the murdering conniver who spells trouble for rival brothers Adam and Charles (Jo Van Fleet won an Oscar for the role in the 1955 film version with James Dean). Unlike the movie, this adaptation covers the entire book, "So I got to get to the meat of the character—her whole story, a magnificent role. I had to bite Lloyd Bridges!" Sidebar: "When I auditioned for Steven Spielberg for Raiders of the Lost Ark, he said, 'What are you doing next?' I said, 'Oh, I'm doing East of Eden.'" Seymour admitted to the megadirector she hadn't seen that famed Dean version. "So, I actually had dinner with Steven Spielberg at his home watching James Dean in East of Eden! Of course, I didn't get Raiders—but Karen Allen (as Abra) ended up in East of Eden with me. I didn't know I hadn't gotten the role until she showed up on the set and said, 'Hey! Steven says hi!'"
La Révolution française (1989)
This sumptuous historical epic, shot in French, German and English with an "international" cast (Klaus Maria Brandauer, Peter Ustinov, Sam Neill, Claudia Cardinale, Christopher Lee, Francois Cluzet . . . ), crams in everything anyone would want to know about the French Revolution circa 1789. Seymour gets to play doomed Queen Marie-Antoinette. "I've never been on the production that was that accurate to detail." Bonus: Her oldest two kids got to play the queen's tots!
If you haven't seen this time-travel romance, prepare for one of movies' greatest lump-in-throat escapes ever. Famed sci-fi author/screenwriter Richard Matheson's plot: Modern-day playwright Richard (Christopher Reeve) falls for a woman in a vintage photo of 18th-century actress Elise (Seymour) and winds up connecting with her via hypnosis. The poignant climax is only heightened by Bond flick composer John Barry's lingering theme. "When it came out, Universal did no promotion at all," rues Seymour. "But it's become this extraordinary global phenomenon." Indeed, each year on Michigan's tiny Mackinac Island—the movie was filmed there at a historic hotel—a festival's held for fans. Yes, Seymour goes and takes the family. "My grandchildren have fallen in love with the movie! We get to go back in time." And to honor her "dear friend," the late Reeve. "We hit it off from the start."
War and Remembrance (1988-89)
Reportedly the most expensive miniseries ever made at its time (over $213 million in today's bucks), this sequel to ABC's pre-WWII miniseries The Winds of War picks up post Pearl Harbor, focusing on how two connected families are ravaged by everything from the Battle of Midway to Hitler's march. Seymour replaces Ali McGraw as Natalie, the Jewish daughter-in-law of U.S. Navy captain Pug (Robert Mitchum)—a woman who winds up in a concentration camp. "I lost a lot of cousins on the Jewish side of my family," says Seymour. "My mother was in a concentration camp for three and a half years in Indonesia under the Japanese. So I have a personal connection to the material."
"I'd just come off doing Dr. Quinn and I thought, Dr. Quinn fans will die but this is the funniest thing I've ever read in my life. I was howling with laughter," recalls Seymour. Role: Kathleen "Kitty Cat" Cleary, a stunner out to a seduce younger scamp (Owen Wilson) who's got his sites on her daughter (Rachel McAdams). "After I auditioned, (director) David Dobkin called me at the house that evening and said, 'Can you come back in and up the sexuality?' I said, 'If you give me something other than another woman my own age to read with.' They called my bluff: I got back in there and there was the hottest actor that you've ever seen—the one who winds up as the groom (Vince Vaughn). I was like, 'Oh my God.' I auditioned again and they offered it to me right away!"