Celebrity Trainer Eric Fleishman's Movies & Shows That Give Him a Lift

Celebrity Trainer Eric Fleishman's Movies & Shows That Give Him a Lift

By John Griffiths | Photo Credit Greg Zabilski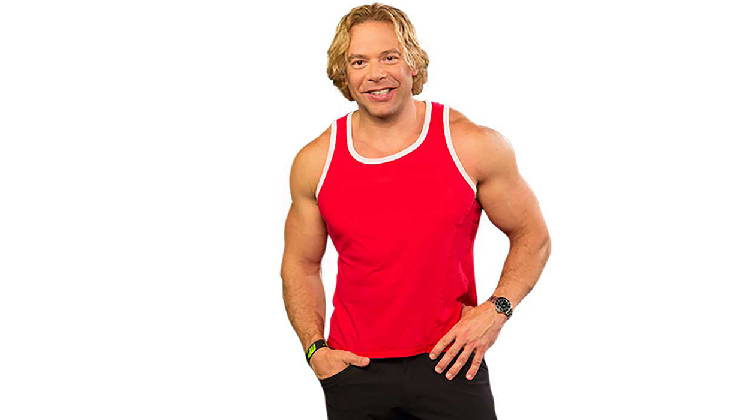 The lambs and corn stalks all grew fast enough, but as a kid on a farm in idyllic Farmington, Maine, Eric Fleishman did not. "I was unbelievably short and small," he says. "I didn't really reach puberty until I was in my 20s." Lucky for him, his dad—also diminutive—enrolled him in a martial arts class when Fleishman was 10, "just to give me a little confidence."
Today, Fleishman has three black belts (Shotokan karate, Taekwondo, Japanese Jujutsu). He's also got a booming brand: Going by the moniker Eric the Trainer, he's one of Hollywood's hottest fitness gurus.
"I've worked with everybody," says Fleishman.
Give him some of the credit for Arnold Schwarzenegger's actor-son Patrick rock-hard abs, pop star Shawn Mendes' heartthrob bod, and for keeping rock bands from Nickelback to The Strokes rockin'. Increasingly buff celeb chef Robert Irvine? "I'm the one who made him (literally) big!"
Fleishman's own trajectory surprises even himself. Thanks in great part to his "wonderful" parents (dad's a retired psychiatrist, mom authors history books), "I actually had a really happy childhood—lot of friends, lots of fun."
Favorite TV shows and movies growing up? "We didn't have cable, just a couple of TV stations, so I loved comic books." Even with a brother and three sisters, there wasn't much true-life drama at home. Says the former Boy Scout: "If we were upset about something, my parents would say, 'Well, let's discuss it.'"
After graduating with an English degree from Quinnipiac University in Connecticut, he headed to New York City intent on taking a random corporate job and "meeting girls, learning how to play guitar and having fun." A manager of a gym where he worked out offered him a gig as a trainer, he bit, and within a couple of months he was the local chain's most popular fitness coach.
"I realized I love, love the process of taking people from normal to extraordinary. I found my passion."
In 1997, after being bicoastal for a couple of years, he decided to leave his NYC life behind and settle in Hollywood's Beachwood Canyon to be with his newborn son, Henry. "There was this unbelievably powerful force within me: I don't want to be away from this little guy." Yet another fitness-biz angel spotted his form and hired him to train celebs at the once-popular (now gone) private gym Todd Tramp's. "I started just working with celebrities and transforming them in a way no one had ever seen before," says Fleishman. "People started talking about it, I got a lot of media attention and got a lot of crazy referrals. (Success) was like wildfire."
Soon enough, he was famous as just Eric the Trainer. "I would call my clients and their assistants would answer and say Eric who? "You know, Eric the Trainer, and they'd say, 'Oh, yeah, Eric the Trainer!'" People latched onto it. Today, my son even calls me Eric the Trainer!"
At Fleishman's ETT Mecca—his initials-emblazoned fitness spot, which he boldly calls "the best gym in America"—he and his army of fellow trainers keep about 300 celebrities lean, fit and ripped (he also has workout centers in Vancouver, Atlanta, New York and beyond). Plus, "I send (trainers) to movie sets, I send them on tour with musicians."
Somehow, since 2015, he's also been able to host Celebrity Sweat, a guest-starry health and fitness show that started on AXS TV but recently switched to Amazon Prime.
His key to success is more than just the "science-based" plan he's mastered. "I try to motivate (my clients) to get in great shape through love, not yelling," he says. "And I usually train two or three or four people at a time, so they see it as a community as opposed to the traditional client-trainer relationship. We work with 95% artists—actors, musicians, producers, directors, chefs—and artists like to be around each other. So what I do is (survey) all of these incredible personalities and mix and match them."
One recent morning, Fleishman's work out party guest list included a Food Network personality, The Notebook director Nick Cassavetes, an actor from The Walking Dead and Mindhunter star Holt McCallany. "And the next hour we had two of the guys from Def Leppard with two other actors. I'm the luckiest man in the world to work with all this creative energy!"
Not that he has designs on being the next Ahhhnold. "I have no desire to act," says Fleishman, though he does get a kick out off hosting his TV show and more. He's MC'd everything from a Michelle Obama "Move It" fitness event to the Mr. America and Mr. Olympia competitions. And each year he heads to Vegas to bark at a body-building show with a circus theme. "They dress me up as a ring master."
His favorite gym buddy is son Henry, now 22 and "an amazing musician" (not to mention a black belt like dad). Aside from taking the occasional father-son treks to see the folks back in Maine, they bond while spotting each other. "We work out several times a week together. He's not obsessed with it the way I am, but it's a way to connect. We have amazing discussions about life, girls and music and all kinds of things. I've been so happy to be part of his life."
Oh, and Fleishman recently popped the question to his longtime girlfriend, Alysia Kanemoto. She said yes. As the onetime pipsqueak puts it, "Things have worked out."
Outside the gym, Eric the Trainer still finds time to relax in front of the TV (favorite view-time munchy: "Butter toffee pretzels from Trader Joe's. They're so incredible").
Below, check out the titles he says "make me feel energized and want to attack the day."
Grump-personified Hugh Laurie followed up his long-running TV hit House with this noirish Hulu drama. He plays Dr. Eldon Chance, a depressed forensic neuropsychiatrist who gets mixed up with a couple of shady detectives, one very serious femme fatale of a patient (Gretchen Mol) and a maniacal Silicon Valley billionaire (Paul Schneider). His sidekick: Darius (Ethan Suplee), a martial arts expert who helps Chance fend off the baddies. "This show has some of the best acting I have ever seen," says Fleishman, "and the martial arts are unbelievably realistic."
Eat Drink Man Woman (1994)
Director Ang Lee (Life of Pi) solidified his career with this international hit about a Chinese chef in Taiwan watching his three disparate daughters deal with love travails—with much of the drama (and laughs) unfolding over his weekly Sunday family banquets. "This is my favorite food movie of all time. If you can get through watching it and not want to go out for Chinese food afterwards, you're a much better person than I am." Fun fact: Fleishman was a consultant on Lee's 2003 Marvel superhero flick Hulk.
High-kicking, high-squealing superstar Bruce Lee's last movie adventure (he died the year of its release) is a jolt to the system, says Fleishman. "Any Bruce Lee movie motivates and inspires," says the black belt, who recently announced he'll be collaborating with the Bruce Lee estate on various projects."They love the way that I train people." So much so that the Lee estate recently gifted Fleishman with a miniature anatomical statue of the human body that once sat on Lee's desk.
Star Sylvester Stallone's iconic tale of a punchy, down-and-out boxer who rises up "has caused more people to drink raw eggs than any other movie of all time," says a laughing Fleishman. "And the fact that Stallone believed in himself and refused to just sell his script and allow someone else to star in it—meaning he'd probably make a lot less money—is a real-life Rocky story. Beautiful all the way around."
The Legend of Tarzan (2016)
"I'm a sucker for any Tarzan movie," says Fleishman, including this hit version with lanky Alexander Skarsgård as the fabled, loin-clothed tree-swinger happily living in an African jungle. Funnily enough, "Almost every male client of mine my wants to look like Tarzan, and the women want to look like (his equally jungle-friendly love) Jane. And (those characters) don't go to the gym, so it's tricky!" Note: Skip 1981's Tarzan, The Ape Man with a charisma-challenged Miles O'Keeffe as the jungle hero and Bo Derek as his quasi-Jane. It's aw-awa-awa-awa-awwwwful!
The Blues Brothers (1980)
John Belushi and Dan Aykroyd's big-screen riff on their beloved Saturday Night Live characters, law-addled bros and bluesmen Jake and Elwood Blues, may have a loose plot (involving police chases, Nazis, needy orphan kids and tunes). But "it's really funny and outrageous. My son loves it too—his bar mitzvah speech was about the movie!"
The Sound of Music (1965)
A doe, a deer, a mood-boosting classic! "It's the ultimate music movie," says Fleishman of this toe-tapping, triumphant and fact-based story of how a big family of talented singers evaded a cruel fate in Nazi-threatened Austria. Music "never, never disappoints and it never bores you. And it's so beautifully made." Work-out tip: If his celeb clients are struggling at the gym, "I demand that they sing a song from the movie, like 'The Hills Are Alive.' That puts them in a silly mood and it allows them to relax. So I owe The Sound of Music—it sure helped me a lot of with grumpy celebrities!"
The Tonight Show Starring Jimmy Fallon (2014-present)
Fleishman and Fallon have been told enough times that they look alike, Fallon actually dressed up as Eric the Trainer on his show once—blond wig and all. "Which caused pandemonium from my extended family. I heard from cousins I haven't heard from in a million years." Fleishman returns the love. "I think Jimmy is really funny, and he's a terrific host. One of my goals as a trainer is to always make people feel comfortable and to make people smile, and that's what he does."