Ghost Hunter Jason Hawes' Movies & Show That Haunt Him

Ghost Hunter Jason Hawes' Movies & Shows That Haunt Him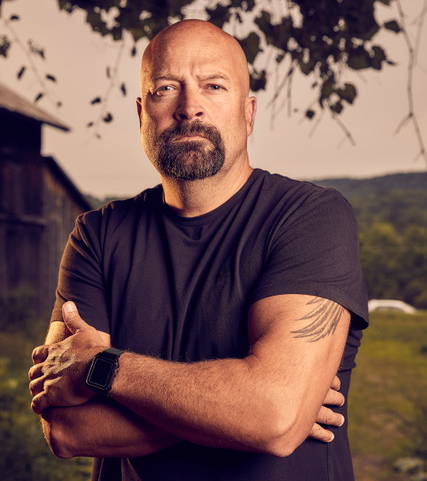 Lightning and thunder be damned, legendary paranormal expert Jason Hawes is smiling through the storm that's caused a power outage in his Rhode Island neighborhood. "I've got the house all rigged up with the generator," he says cheerily. "It's not like the old days when I was a kid and we had to wait until they got the power back."
And who can blame the guy for keeping the eerie darkness to a minimum? After all, Hawes spent about 12 years boldly investigating possible hauntings on the reality phenom Ghost Hunters before calling it quits in 2016. Now he's back on the heebie-jeebies beat in his latest TV expose, Ghost Nation, which just started up on Friday nights on the Travel Channel (elsewhere, a new Hunters reboot airs without him—hovering like a ghost). The twist: Hawes and fellow Hunters alums Dave Tango and Steve Gonsalves help frightened families who are vexed by strange, inexplicable happenings in their home—think bumps in the night, sudden headaches—that have left other experts flummoxed.
"I believe in ghosts and hauntings, but I believe that 80% of claims can be disproved scientifically," says Hawes, an affable former plumber (and current Roto-Rooter consultant) who also helps the police and churches suss-out bizarre paranormal claims ("para is just Greek for beyond," he notes). "We do lots of research and tests to find out if it's something paranormal or just animals or maybe magnetic fields." Sometimes, he adds, a spooked customer simply didn't realize "their medication can cause hallucinations."
No real ghoul would have a ghost of a chance scaring Hawes and his own family. He and Kristen Cornell, his high school sweetheart and wife of over 20 years, are armed with three teen boys who are "all wrestling champions and football players." And the couple's older daughters help with the family apparition-seeking biz. Hawes can still get the willies, though. A few days ago, "A hummingbird landed on my shoulder when I was fixing one of my daughter's cars in the driveway. Scared the hell out of me!"
Here, he talks about his passion for ghost-hunting, a recent "mind-blowing" investigation, and what flicks and shows make him go eek!
As a kid, did you play ghosts or call the spirits with your pals?
You know, I wasn't even really interested in the paranormal until I was about 19, when I had a personal (ghostly) experience.
What happened?
I saw what appeared to be an apparition. My mind kind of went into overdrive—Am I crazy? Or, if I'm not, how did this just happen? I wanted to somehow figure out how to recreate it, or make it happen again. I've always been a person who has to get their hands on a (problem) and figure out what's going on for myself. That's a big reason I like this field.
What was the explanation for that apparition?
I'm still trying to figure that out! Every day, this field gets more respect. When the answers come—in my lifetime or later—then maybe my research will have had some sort of a hand in helping us get there.
Are there new gadgets that help paranormal experts? We're working with audio engineers now on an infrasound (low frequency) system to try to record a (paranormal) voice, isolate the frequency and have back-and-forth conversations.
So, what's the scariest outing so far in Ghost Nation?
I can say that we're able to catch something—from its (appearance) through its manifestation to it breaking up again—and document the whole thing on video. You're just like, Holy s---, how's that possible?
Yikes!
Zombie alert! Horror maestro George Romero's second sequel to his low-budget classic Night of the Living Dead cuts to—chomps to?—a Florida bunker, where some sequestered scientists and other humans sweat to figure out a way to get rid of the countless zombies that have overtaken Earth. "Zombies are whatever," Hawes huffs. "But it's the mere number of them in this movie that finally does me in." Skip the 2008 remake with Nick Cannon and Mena Suvari.
Is it greed, power, insanity or bona fide demonic possession that fuels the baddies each week in this novel mix of The X-Files and The Exorcist? Catholic priest-in-training David (Mike Colter) is tasked to find out, enlisting help from a psychologist (Katja Herbers) and a tech geek (The Daily Show's Aasif Mandvi). The drama "merges the religious with scientific—a very unique approach." Fun fact: Episode one gave a shout-out to Hawes' past. "One of the characters said something like, 'Ever since that show Ghost Hunters, people think every weird sound in their house is a ghost.'"
Hawes appreciates this gold-standard chiller—poor 12-year-old Regan (a perfect Linda Blair) is definitely taken over by the Devil—for its "authentic" vibe as much as its scares (the story was inspired by true-life headlines decades earlier involving a St. Louis boy). "I do a lot of work for law enforcement, where I'm considered a cult specialist, and I do a lot of work for religious organizations, where I get sent to write a preliminary report on so-called possession," says Hawes. "Now 99.9% of those have nothing to do with possession. But there's that rare, rare case where somebody's speaking a language that hasn't been spoken in 2000 years and the person's ability to know that language defies reality."
The Haunting of Hill House (2018-present)
Hawes and his Ghost Nation buddies would have a field day with the predicament facing the Crain clan in this Netflix what-done-it. In 1992, a couple and their five kids move into a mansion that, alas, comes with some otherworldly inhabitants. Flash forward to today, and most of the family is forced to deal with the ookieness all over again. "It's a story worth following, and there's lots of hidden gems of ghostly activity," says Hawes. House, like two previous movie versions, was inspired by Shirley Jackson's 1959 novel.
Invasion of the Body Snatchers (1978)
The 1956 original has its chills, but few movies get under the skin—or stir nervous giggles—like this "phenomenal" update. Donald Sutherland, Brooke Adams, Jeff Goldblum, Spock himself Leonard Nimoy and a scream-tastic Veronica Cartwright are all convincingly freaked-out as San Franciscans whose friends keep getting replaced by emotionless alien replicas. "I kept getting nightmares when I was a kid over the scene with that damn pug dog with a human face."
Mia Farrow runs the gamut—mettle, vulnerability and sheer terror—as this thriller's hero, a woman who comes to realize her newborn baby is literally a little devil. At least she's got an adoring husband (John Cassavetes) and kindly New York neighbors (Ruth Gordon, Bewitched's Maurice Evans) to protect her? "I need horror movies to have a story," says Hawes. "In this day and age, they seem to just be all about jump scares. I hate that!"
Writer-director M. Night Shyamalan (Split) scored his first scary-big hit with this tale of a boy (Haley Joel Osment) who can see, and talk, to dead people—a talent that intrigues a child psychologist (Bruce Willis). "Osment is great," says Hawes of the star's memorable turn. "And the scares aren't in your face—they come out of the corner of your eye. A lot of times that's more spooky than anything!"
It's an alien creature that can overtake and morph into humans! Trashed by critics out the gate, director John Carpenter's remake of a 1951 creepfest is now considered an essential Halloween treat. Can helicopter pilot R.J. MacReady (Kurt Russell) and a band of distrusting scientists and tough-guys fend off that "thing" that's suddenly popped up in an Antarctic research station? "No matter what, they're screwed—they're in the middle of nowhere! It's a terrifying movie—but one of my favorites of all time."