Shark Week Adventurer Paul de Gelder's Movies & Shows With Terrific (& Sometimes True) Heroes

By John Griffiths | Photo Credit: Discovery Channel
Shark Week Adventurer Paul de Gelder's Movies & Shows With Terrific (& Sometimes True) Heroes

A Royal Australian Army paratrooper turned daring Navy diver, Paul de Gelder saw his world shatter in 2009 when a shark attack left him without his right leg and much of his right arm at the age of 32. Before and since, he's lead the sort of life that would make an awe-inspiring movie (in his "hoodlum" early days, he worked at a strip club; more recently, he's trekked to Africa to hunt poachers). Heck, with his good looks and charismatic ways, he could play himself! No wonder the Discovery Channel has anointed him as one of Shark Week's resident star-experts, letting his love for the fine-finned fish shine in three of the annual TV event's specials this year. Kicking things off: Shark Trip: Eat. Pray. Chum (Sunday, July 28), a cheeky outing that shows him and The Daily Show's Rob Riggle helping freaked-out stars like Joel McHale and Damon Wayans Jr. relax with sharks in the Bahamas. The L.A. based de Gelder, who's also a globe-hopping motivational speaker, charmed Caavo too in a chat about his life, those specials and those Great Whites.
So, what's Shark Trip: Eat. Pray. Chum. all about?
The premise is really like a feature movie ((the two-hour lark is produced by Girls Trip producer Will Packer), even though it's pretty much unscripted. Rob (Riggle) wants to get his kooky Hollywood comedian friends out of their environment and go on an adventure with him. He invites them out to the Bahamas under the guise that they're going to be sitting by the pool and drinking cocktails. When they finally arrive, it's all fish heads and chum and feeding and diving with sharks. The only person that's happy about it is Adam Devine (Pitch Perfect). Anthony Anderson has the loudest lungs I've ever heard in my life.
Why do you love introducing people to sharks?
The media loves images of great white sharks with their jaws gnashing all over the place because that sells. But the reality is that they are just sharks in the ocean, in their home, doing sharky s***. They're the only big, large predator on Earth that will allow us to share their environment with them. Think about it: You can't go up to a lion, a wolf, a bear with a steak in your hand. But I've swum with great white sharks without a cage. I have hand-fed tiger sharks and bull sharks. They're a really remarkable species and they are getting decimated throughout the planet. So we need to shift this perception of them and show the world how important they are.
What's their intelligence level compared to the porpoise or dolphins?
Well, dolphins and wild porpoises are always going to win—they're among the most highly intelligent species on the planet. But when you dive with a great white shark and it looks at you, you can see the eyeballs focusing on you and trying to work you out. You can see the intelligence through its eyes.
What are your other two Shark Week specials?
There's Sharkwrecked (July 30, 8 p.m.—he jumps out of a plane to land in shark-happy waters off the Philippines). And Laws of Jaws (July 30, 9 p.m.) is kind of like Mythbusters meets sharks. We're trying to break down common misconceptions, like if you have a cut on your finger and you're leaking a little bit of blood, you can't go on the water because the sharks will smell it from 10,000 leagues under the sea. So we drained half a liter of my blood into a bag, I jumped off a boat into the water and, while a tiger shark, bull shark, hammerhead shark and lemon shark were underneath me, I popped open that bag of blood.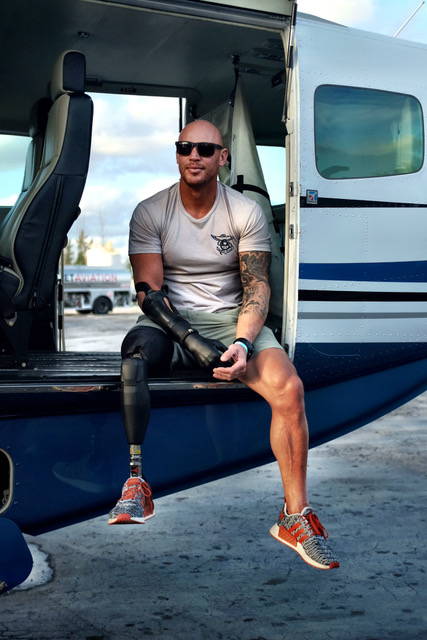 Do you carry any trauma from your shark attack years ago?
I never had PTSD. Look, I'm just like anyone else, I have bad days. But my shark attack, I don't see it as something horrible that I need to cling to. It's just something that happened. It did shift my life, but I made of it whatever I wanted. When I do have bad days, I remember something a good friend of mine told me once when I was in hospital. He said, "Never feel bad about feeling bad. There's nothing wrong with that. But identify why you're feeling bad and then do something to fix it." So if I'm feeling shitty, maybe I'll just take a day off. Maybe I'll just hang out with my dog and go read a book or watch a movie or maybe working out is the answer.
You travel the globe as a motivational speaker. What do you get out of that?
I can honestly tell you if I'm feeling crappy when I have a presentation to give, I know that by the time I get off stage, I'm going to be on top of the world. That happens every single time. Sharing the funny stories about nearly dying in the shower—and being more afraid of hopping in the shower on one leg than diving with sharks—getting all of that stuff off my chest is my therapy.
Check out Paul de Gelder's list of films and TV shows featuring his favorite heroes.
Anchorman: The Legend of Ron Burgundy (2004)
Will Ferrell, Christina Applegate, Paul Rudd and Steve Carell (as "Brick Tamland") all click as hammy, ultra competitive and bell-bottomed local news stars in '70s San Diego in this hilarious satire. "I do love a laugh, and Will Farrell is one of my favorite comedians," says de Gelder, who notes Anchorman is rich with quotable lines. His fave? "When people say to me, 'Oh, cool, so you're a celebrity now!' I'm, like, 'Yeah, I don't know if you know this, but I'm kind of a big deal." Ha!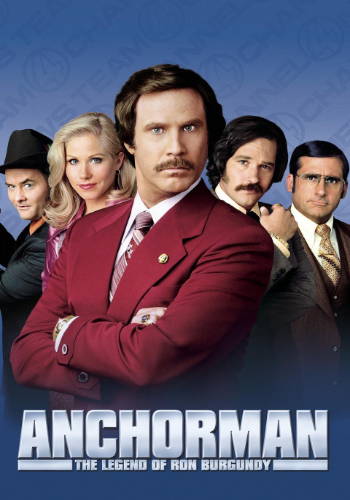 Brooklyn Nine-Nine (2013-Present)
"When it's been a long day and all I want to do is chill out and have a giggle, I can't go wrong with Brooklyn Nine-Nine," says de Gelder of this long-running spoof of NYC-set cop shows. Andy Samberg as goofy-sweet detective Jake Peralta, Andre Braugher as his stern gay captain—"Everyone fits into their characters perfectly. And (the writing is) really witty and intelligent but also very silly." Would his dad approve? "I never thought about that actually. He wasn't a very funny cop."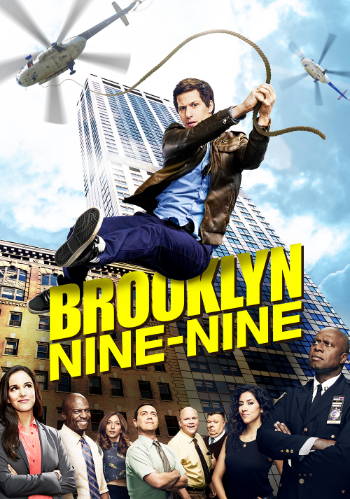 Central Intelligence

(2016)
Another comedy! Dwayne "The Rock" Johnson is a high school "loser" turned hulking CIA agent who enlists his ol' pal Kevin Hart's help in fighting a terrorist plot. Good luck! "Dwayne Johnson kills it in this—he's not playing his regular tough guy but a really offbeat character. That just shows the diversity of his skill range." In fact, de Gelder wouldn't mind a career like The Rock's. "He's so multifaceted. He's gone from football to wrestling to TV and movies and he's become one of the highest paid stars in America. He seems like such a good bloke. And he's bald like me!"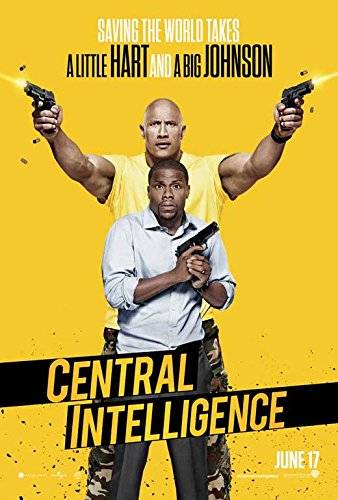 "This movie played a big role in my life." The fact-based drama, set in circa 1948 stars Cuba Gooding Jr. as Carl Brashear, the U.S. Navy's first black diver (Robert De Niro plays a fellow officer who helps him battle racism—and more.) "He was treated like garbage, then lost his leg, then went back to work," says de Gelder, who remained with the Australian Navy himself as a diving teacher after his tragedy. "His story was a driving force for me. It helped me to believe that I could get back to work after my injuries."
Shark Week (1988-Present)
"Unbranded gave me a ton of inspiration from start to finish." And who wouldn't be inspired by four men adopting wild horses and taking them on a 3,000 mile long journey, with hopes of proving that they can be tamed. With 4 horses per cowboy as they trek from Mexico to Canada, there is a lot of room for error, but even more room for growth.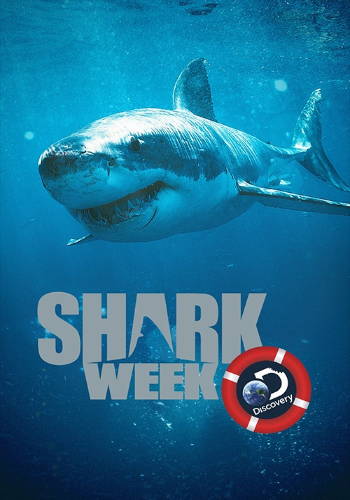 The lives of whales, sea turtles, penguins, elephant seals and legions of endangered fish are captured in this gorgeous, groundbreaking and profoundly moving docuseries hosted and narrated by David Attenborough. "He's the man," says de Gelder of Attenborough, the famed, velvet-voiced (and knighted) BBC journalist and natural historian. "He's like the grandfather everyone wishes they had. He draws you in and makes you more interested." The show was such a global hit, it inspired a sequel, a film version (Deep Blue) and an increased push to save our oceans and their fragile, needed creatures.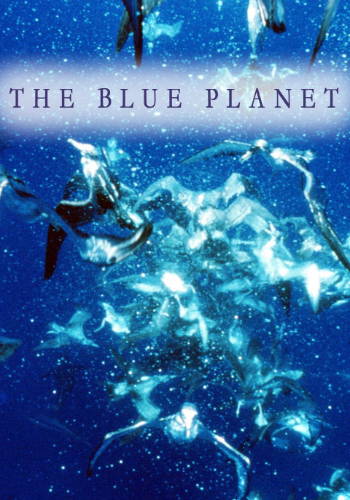 13 Hours: The Secret Soldiers of Benghazi (2016)
In this big-budget drama from Mitchell Zuckoff's historical bestseller, a brave team of military security contractors hope to fend off terrorists storming the U.S.'s diplomatic offices in Benghazi, Libya, in 2012. The tense, action-packed film "really rings true. It's just an incredible story." De Gelder gives special honors to costar John Krasinski's performance as one of the heroes, a former Navy SEAL. "He's a real surprise compared to his role on The Office. He turned into this weapon of a man."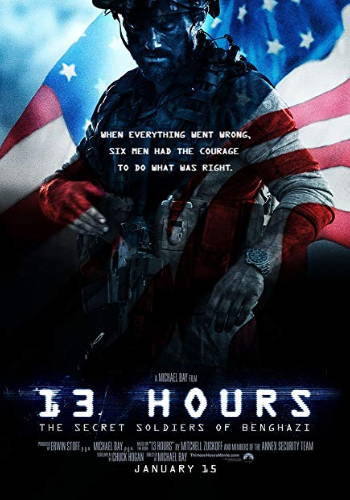 "Oh, man, this is the best movie ever made," says de Gelder of director Quentin Tarentino's tale about the love between a somewhat unhinged guy named Clarence (Christian Slater) and a sex worker (Patricia Arquette). Why unhinged? Clarence kills his honey's pimp for one. More mayhem involving mobsters and drug deals ensue, but it's the "rich characters" (the cast also includes Dennis Hopper, Christopher Walken, Gary Oldman and a young Brad Pitt) that make romance work for de Gelder. "I love a bit of action, but who doesn't love a love story?"