Entertainer Rain Pryor's 8 Movies & Shows That Make Her Thankful

Entertainer Rain Pryor's 8 Movies & Shows That Make Her Thankful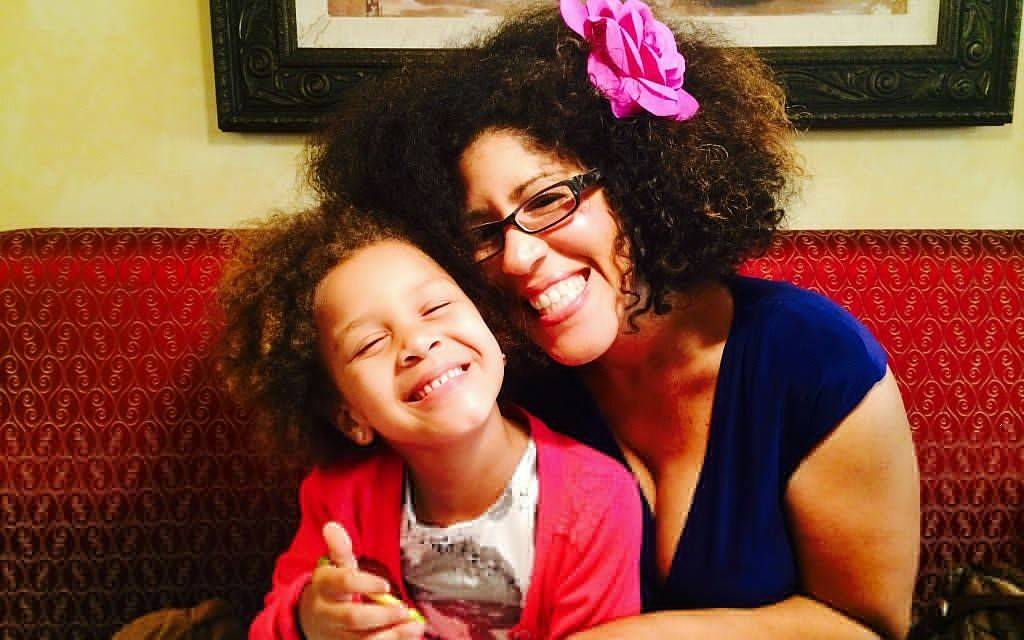 Rain Pryor exudes the sort of everywoman vibe—and easy gratitude—that makes you forget she's Hollywood royalty. Never mind that she's the daughter of beloved standup comic and movie star Richard Pryor. This LA-born, Beverly Hills-raised kid is so un-Hollywood, she lives—as she notes with a knowing laugh—"2900 miles away" in Baltimore, Maryland. On her glamorous schedule these days: Raising her daughter Lotus, 11, baking and selling her signature cookies—and running for city council.
"I kind of made my own thing in Baltimore," says Pryor, who hopes to be on the ballot as a "fiscally conservative" Democrat in Charm City's 3rd District race next year.
Outside of her baking biz, her Baltimore existence involves teaching acting, bringing plays to underserved schools and, having overcome drug addiction years ago, lifting hearts as a motivational speaker. Okay, so she's not nabes with famed director and Baltimore resident John Waters ("I wish I was!"). But "life's working."
By all rights, Pryor should be a showbiz diva. Flashing star quality like her dad, she scored teen fame in the late '80s (as wiseacre T.J. Jones on the '90s high school sitcom Head of the Class), acting acclaim in the late '90s (she was Sherilyn Fenn's lesbian Alcoholics Anonymous buddy in the Showtime series Rude Awakening) and raves and awards for her 2004 autobiographical stage show, Fried Chicken and Latkes.
Over the years, she's taken that one-woman show coast to coast, letting America in on what it was like to grow up with a black and famous dad and Jewish mom (that'd be Shelley Bonus, a Sunset Strip go-go dancer turned astronomer!). Along the way, Pryor even became a sort of modern-day (and much less troubled) Judy, belting out jazz and blues standards in clubs from London to Hong Kong. She even put out a live album.
Pryor still keeps a toe in proverbial Tinseltown. Last year, eternally cool producer Norman Lear optioned Latkes for TV. And, city council member or not, she intends to perform the show in Memphis come January 2021. Living and running in Baltimore "takes sacrifices," she admits. "I'm not in LA making my hundreds of millions of dollars! But I'm happier."
Below, Rain lets it pour in a Q&A—and lets Caavo fans in on the movies and shows that make her feel grateful. Perfect fodder for some good, apolitical Turkey Day conversation!
Puff question first: How do you juggle it all so well?
Ha! I think it's because I'm a mom, I really do. You get in this mode where you have to get things done, no matter what.
Are you a fan of HBO's acclaimed Baltimore-set drama The Wire?
Yeah, absolutely. But I live it. My ex husband (Yale Partlow)—my daughter's father— is a police officer (Partlow is the homeless outreach liaison and a Crisis Intervention Team member stationed at the University of Maryland Baltimore). And I come from a family of activism. Plus, my current husband (Dave Vane, a former park ranger) was a candidate for the Maryland state senate (in 2006).
Why Baltimore—did you get tired of Hollywood?
I just wanted something different. After my dad passed away (in 2005), I thought, I don't know if I want to (keep performing). But I know I don't want people taking pictures of me when I leave the house. So I moved here a few months later. I had come here a few times over the years to do some performances and I liked it. I liked the snow, and had two friends here. I also thought Baltimore's close to New York if I want to go to New York—but it's cheaper! I just think I was meant to be here. I discovered my grandpa actually worked here in the shipyards back in the day, and my dad's grandmother lived here too.
You've kicked drugs and even worked as a drug counselor in the early 2000s. Did that give you clarity on Hollywood?
I think that's helped me in my life, period. Being involved in recovery, and working in recovery for a long time, that's just helped me to be a decent human being. It helps you kind of track yourself and think, 'Okay, wherever I go, there I am.' So, I asked myself, 'Am I trying to run away or am I really trying to do something completely different and good for myself?' My recovery work has given me checks and balances in my life.
You wrote a memoir, Jokes My Father Never Taught Me, about you and your dad. How are you like him—and not?
I'm like my dad in that I love people and I like to help people when I can. Sometimes, I'm pretty funny. Ha! But I'm not into drugs or alcohol really. That's where we're different. And I think I'm wiser than he was about certain things in life. I'm a better parent.
Why the move into politics?
My daughter was getting bullied in school and I went through all the proper channels you're supposed to as a parent to make sure it stopped—and it didn't. I kept getting the run-around, so I went on TV and other parents reached out to me. But not city officials. That told me we need people new in office, people who actually care about the community and about our kids. That's why I jumped in.
Is your family into it?
Lotus will look at me and say, "Really? You have to be in public, and you're going to wear that?" Ha! But she and my husband, my in-laws, my ex-husband, my friends—they're all supportive. My husband is a Libertarian, so we don't always agree politically. Yet he goes door to door and campaigns with me because he believes in me. Our core values are the same.
Jennifer Jason Leigh and Michael Rapaport are both "incredible" as loving (if wayward) parents to a high-functioning, romance-craving autistic teen (Keir Gilchrist) in this bittersweet comedy series. Pryor says no one should be put off by the tough subject matter here "at all." The Netflix hit "actually brings people together—it creates conversation about autism, about relationships. The show's just so well-written—very raw and real."
Paroled thief Joe (Richard Pryor) reluctantly helps a teacher (Cicely Tyson) tend to a group of special-needs kids on a bucolic farm. "This movie is where I saw my daddy's tender side," confides Pryor. "He plays a man who made mistakes and finds his humanity. I was like, 'Sh--, you're sharing your heart with the world, Daddy!'"
Try not to laugh, and be affected, by ever-goofy Will Ferrell as Buddy, Santa's tallest helper who's shocked to find out he's not an elf but an orphan. Will he reconnect with his true pop (James Caan), who gave him up for adoption, in time for Christmas? "The movie's really about holding on to the kid in you," says Pryor. "There's such a sweet sincerity to it."
George Miller, co-writer of the family treat Babe (and, of course, director-cowriter of the very different Mad Max flicks), stirs the heart again with this CGI-animated Oscar winner about a tap-dancing penguin named Mumble (voiced by Elijah Wood). Boy, does Mumble—caught and stuck in Marine World and more—have a tough time getting in step with penguin-crush Gloria (Brittany Murphy). "It's about love!"
The Pursuit of Happyness (2006)
In this true-life tale, Will Smith plays Chris Gardner, a down-on-his-luck salesman and single dad who overcomes homelessness to become the owner of a multimillion-dollar brokerage. "The message is you have to keep showing up in life," says Pryor. "This movie helped me at a time when I felt really down and out myself." Note: Jaden Smith plays Gardner's young son, and Thandie Newton intrigues as his estranged and skeptical wife!
Rude Awakening (1998-2001)
Before Edie Falco hit it big as pill-popping Nurse Jackie, Sherilyn Fenn (Twin Peaks) starred in this Showtime sitcom about Billie, an actress trying to stay sober with the help of AA buddies like "lipstick lesbian" Jackie (Pryor). "It's not just about recovery, it's about starting life over at any stage," says Pryor. The show's also loaded with surprising guest stars (theme song singer Roger Daltrey, Karen Black, Jason Bateman, Taylor Dayne, Tim Curry, Jennifer Coolidge . . . )
Kansas kid Dorothy (Judy Garland) takes a yellow brick road to the fantastical land of Oz—which turns out to be not all that dreamy. "It's about recognizing, and being grateful for, what you have," says Pryor. "Dorothy realizes there's no place like home—and at the end, when she's back, she's like, 'I'm so glaaaad!' Oh, no, wait, that was The Wiz (the 1978 version with Diana Ross and co-starring her dad as guess-who). But it's the same message. Ha!"
Not your mama's '70s TV version of the DC Comics hero (though Lynda Carter was fun there). In this megahit flick, Gal Gadot towers as Diana, an immortal warrior plucked from a mystical hidden island to help stop WWI (instead of II). "She's this fierce fighter who goes up against the dark again and again, and she sticks it out. Stuff like that really grabs me—and makes me feel grateful that my daughter has good movie role models."